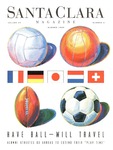 Description
6 - GARBAGE IN: GOODS OUT Lee Hornberger ' 69, associate professor of mechanical engineering, has only one word to say to you: plastics. By Maureen Mclnaney '85
10 - SCU 101 More than a hundred (count 'em) things every student shou ld do before graduating from Santa Clara.
16 - CHIAPAS: ROOTS OF A REBELLION Members of the SCU community bear witness to an indigenous struggle. By Trina Kleist '80 Photographs by Charles Barry
22 - PRESENTING PARADISE A modern translation with commentary helps readers scale the heights of Dante's heaven. By James Torrens, S.J.
24 - HAVE BALL, WILL TRAVEL Alumni athletes go abroad to extend their "play time ." By Rene Romo '86
Publication Date
Summer 1995
Disciplines
Arts and Humanities | Business | Education | Engineering | Law | Life Sciences | Medicine and Health Sciences | Physical Sciences and Mathematics | Social and Behavioral Sciences
Recommended Citation
Santa Clara University, "Santa Clara Magazine, Volume 37 Number 3, Summer 1995" (1995). Santa Clara Magazine. 57.
https://scholarcommons.scu.edu/sc_mag/57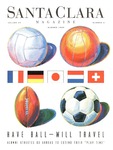 COinS