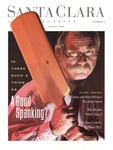 Description
6 - MORE THAN A CATHOLIC EDUCATION Why students from other faiths choose Santa Clara and what they find here. By Elise Banducci '87
10 - WALKING WITH THE PEOPLE OF DOLORES MISSION For a young Jesuit, the people of his East Los Angeles parish have much to teach. By Gregory Bonfiglio '82, S.J.
16 - A GOOD SPANKING? Deeply concerned about youth crime and disorder, many people say corporal punishment could be the answer for unruly students. But does it work? By Miriam Schulman
22 - MARKET-DRIVEN NEWS: LET THE CITIZEN BEWARE Increasingly, what's considered news is being defined by what sells. But who's buying? The public-or advertisers and investors? By John McManus
28 - SILENT STORM Forget the stereotype-heart disease is a women's problem. By Dipti ltchhaporia '84, M.D.
Publication Date
Spring 1995
Disciplines
Arts and Humanities | Business | Education | Engineering | Law | Life Sciences | Medicine and Health Sciences | Physical Sciences and Mathematics | Social and Behavioral Sciences
Recommended Citation
Santa Clara University, "Santa Clara Magazine, Volume 37 Number 2, Spring 1995" (1995). Santa Clara Magazine. 56.
https://scholarcommons.scu.edu/sc_mag/56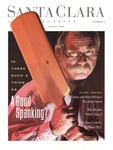 COinS