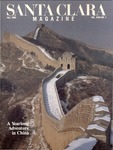 Description
12 - MY CHINA YEAR Cathy Morrissey '85 guides us through her year in China, teaching English as a second language in Handan.
19 - IT PAYS TO LET YOUR KID RUN WILD The story of a remarkable relationship between a Japanese firm and Michael Franz '75.
21 - THE REWAK YEARS Alumna-journalist Jeanne Huber describes the way Santa Clara grew during the Rewak administration.
26 - THE DEGNAN WAY How a respected English professor turns undergraduates into professional writers.
Publication Date
Fall 1988
Publisher
Santa Clara University
Disciplines
Arts and Humanities | Business | Education | Engineering | Law | Life Sciences | Medicine and Health Sciences | Physical Sciences and Mathematics | Social and Behavioral Sciences
Recommended Citation
Santa Clara University, "Santa Clara Magazine, Volume 31 Number 1, Fall 1988" (1988). Santa Clara Magazine. 36.
https://scholarcommons.scu.edu/sc_mag/36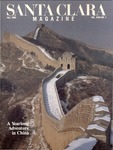 COinS