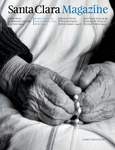 Description
26 - CAN'T THREAD A MOVING NEEDLE To tackle sexual assault on college campuses, a playwriting project comes to the screen. By Danae Stahlnecker '15.
28 - MISSION CRITICAL When three students fell ill from meningitis-causing bacteria—which can be fatal—it meant the clock was ticking. And to get through this, it would take everybody's help. By Harold Gutmann.
36 - "WHERE ARE THEY TAKING US?" A journal from the front lines of the Syrian refugee crisis in Greece. By Colleen Sinsky '10.
40 - NO STRANGERS HERE Refugees, home, and work by Ameera Naguib '16 from Jordan to Silicon Valley. By Grace Ogihara '16 and Eryn Olson '16.
42 - THE ART OF GEORGE TOOKER What we are forced to suffer … and what we should be. By Dana Gioia.
46 - LIKE THE DEW THAT BLESSES THE GRASS A Mass Elegy. By Brian Doyle.
Publication Date
Summer 2016
Publisher
Santa Clara : Santa Clara University, 2016.
Keywords
Santa Clara University, Periodicals. Universities and colleges, California, Santa Clara, Periodicals
Disciplines
Applied Mathematics | Arts and Humanities | Business | Education | Engineering | Law | Life Sciences | Medicine and Health Sciences | Physical Sciences and Mathematics
Recommended Citation
Santa Clara University, "Santa Clara Magazine, Volume 57 Number 3, Summer 2016" (2016). Santa Clara Magazine. 26.
https://scholarcommons.scu.edu/sc_mag/26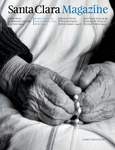 COinS