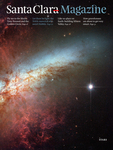 Description
20 - LET THERE BE LIGHT Frank Cepollina '59—the NASA maverick who saved Hubble. By Robert Zimmerman.
28 - LIKE NO PLACE ON EARTH Talking with John A. Sobrato '60 about building Silicon Valley—literally. By Michael S. Malone '75, MBA '77.
32 - DISRUPTION IN THE HOUSE Allison Kopf '11 just won one of the premier startup competitions on the planet. She's making the Google Analytics of greenhouses. By Ed Cohen.
34 - AN AMERICAN STORY A few words from the remarkable life of Francisco Jiménez '66. By Steven Boyd Saum.
38 - DR. JEROME HE was a man of action, and he was far better at being a doctor than a father. Some lessons here: in golf and love, doing and dying. By David E. DeCosse.
44 - THEM'S THE RULES Through FOX and CBS, Mike Pereira '72 and Mike Carey '71 have changed the way Americans watch football. By Sam Farmer
Publication Date
Spring 2016
Publisher
Santa Clara : Santa Clara University, 2016.
Keywords
Santa Clara University, Periodicals. Universities and colleges, California, Santa Clara, Periodicals
Disciplines
Arts and Humanities | Business | Education | Engineering | Law | Life Sciences | Medicine and Health Sciences | Physical Sciences and Mathematics | Social and Behavioral Sciences
Recommended Citation
Santa Clara University, "Santa Clara Magazine, Volume 57 Number 2, Spring 2016" (2016). Santa Clara Magazine. 25.
https://scholarcommons.scu.edu/sc_mag/25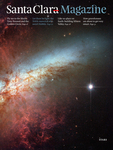 COinS