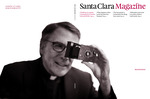 Description
14 - IN THE BEGINNING An interview with Santa Clara University President Kevin O'Brien, S.J. on what's next and noticing what we swim in. Matt Morgan
22 - ADAM, EVE, AND THE APPLE If making—and appreciating—art makes us human, what happens when we get help making a masterpiece from something unhuman? Lauren Loftus.
28 - BEDROCK When faced with tough decisions, Santa Clara values stand as good guides, says Leon Panetta '60, J.D. '63. Leslie Griffy.
Publication Date
Winter 2019
Publisher
Santa Clara : Santa Clara University, 2019.
Disciplines
Arts and Humanities | Business | Education | Engineering | Law | Life Sciences | Medicine and Health Sciences | Physical Sciences and Mathematics | Social and Behavioral Sciences
Recommended Citation
Santa Clara University, "Santa Clara Magazine, Volume 61 Number 1, Winter 2019" (2019). Santa Clara Magazine. 133.
https://scholarcommons.scu.edu/sc_mag/133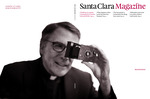 COinS