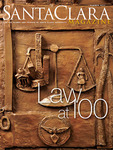 Description
18 - What do investors really want? By Meir Statman. A renowned behavioral finance expert reveals how our desires shape our actions when it comes to investing. (Hint: It's not just money that we're after.) 20 - Law at 100. A century of legal education at SCU. See snapshots from across the years-and look at the big picture of how the legal landscape has changed - The Big idea!: Michael S. Malone '75, MBA '77 on Silicon Valley high tech gold and a brief history of intellectual property law. Women's Work: Stephanie M. Wildman on jobs, the law, and a century of redefining "differences." Altruism v. Apathy: Beth Van Schaack makes the case for international criminal law-from Nuremburg to Yugoslavia and into the 21st century. Until proven Innocent: Writer John Deever examines the latest from the Northern California Innocence Project: exonerations and some massive studies of prosecutorial misconduct. 30 - A Wild Surge of Guilty Passion By Ron Hansen, M.A. '95. It was known as the crime of the century. And it's the stuff of Hansen's latest novel, set in Prohibition-era New York. Here's the story behind the book.
Publication Date
Summer 2011
Publisher
Santa Clara University,
Keywords
Santa Clara University, Periodicals. Universities and colleges, California, Santa Clara, Periodicals.
Disciplines
Arts and Humanities | Business | Education | Engineering | Law | Life Sciences | Medicine and Health Sciences | Physical Sciences and Mathematics | Social and Behavioral Sciences
Recommended Citation
Santa Clara University, "Santa Clara Magazine, Volume 53, Number 1, Summer 2011" (2011). Santa Clara Magazine. 13.
https://scholarcommons.scu.edu/sc_mag/13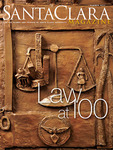 COinS