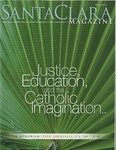 Description
16 - JUSTICE, EDUCATION, AND THE CATHOLIC IMAGINATION By Keith Warner, O.F.M. A religious vision of a sustainable future is less about politics than ethics. It means drawing on deep spiritual currents in the Catholic tradition-and environmental concern as if people mattered.
22 - WRITING THE ISLAND An essay in the words and images by John Seibert Farnsworth and Charles Barry. A journey to the Sea of Cortez-to paddle and dive, to hear the island speak, to look carefully, to write, to come home sunburned and transformed.
30 - INTERNET, WE HAVE A PROBLEM. By Sam Scott '96. One fine winter day, Dan Kaminsky '02 stumbled upon a hole in the Web that could make for a hacker's field day. It wasn't a flaw with a browser or a piece of hardware. It lay in the foundation of the Internet itself.
48 - IN MEMORIAM: CHANCELLOR PAUL LOCATELLI, S.J. '60 By Gerald McKevitt, S.J. A fellow Jesuit reflects on the man, priest, and president who profoundly touched so many lives at Santa Clara, in Silicon Valley, and beyond.
Publication Date
Fall 2010
Publisher
Santa Clara : Santa Clara University, 2010.
Disciplines
Arts and Humanities | Business | Education | Engineering | Law | Life Sciences | Medicine and Health Sciences | Physical Sciences and Mathematics | Social and Behavioral Sciences
Recommended Citation
Santa Clara University, "Santa Clara Magazine, Volume 52 Number 2, Fall 2010" (2010). Santa Clara Magazine. 124.
https://scholarcommons.scu.edu/sc_mag/124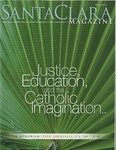 COinS