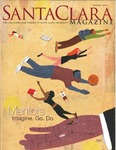 Description
18 - EVERYTHING IS ILLUMINATED By Christine Cole. For the first time since the invention of the printing press, artists have put quill pen to paper to hand-write-in calligraphy-the Bible in its entirety. The result is a wonder to behold. And available to readers and gazers at Santa Clara.
24 - HOLD THE LINE By David McKay Wilson. At Harlem's Frederick Douglass Academy, basketball coach Pat Mangan '84 has built a legendary program by making sure his players have their priorities straight. Family first. School second. Then hoops.
28 - LESSONS IN DIPLOMACY. By Sam Scott '96. How Bob LaMonte '68 was inspired to teach history. And become the No. 1 superagent for coaches in the NFL.
34 - OUR LADY AT NOTRE DAME By Sam Scott '96. Judith Maxwell Greig M.A. '81 takes the helm at the best-kept secret on the Peninsula.
36 - THE SAFE STUFF By Scott Brown '93. Q&A with heavyweight financial advisor Jim Hulburd '82.
Publication Date
Winter 2009
Publisher
Santa Clara : Santa Clara University, 2009.
Disciplines
Arts and Humanities | Business | Education | Engineering | Law | Life Sciences | Medicine and Health Sciences | Physical Sciences and Mathematics | Social and Behavioral Sciences
Recommended Citation
Santa Clara University, "Santa Clara Magazine, Volume 51 Number 3, Winter 2009" (2009). Santa Clara Magazine. 123.
https://scholarcommons.scu.edu/sc_mag/123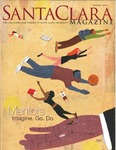 COinS