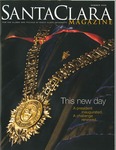 Description
14 - INAUGURATING PRESIDENT ENGH By Steven Boyd Saum. On the occasion, a ringing challenge from President Engh: Make SCU a champion for environmental justice. Read the speech and see the photos.
22 - SAVING BOUNTY By Elizabeth Svoboda. Our food-safety system is in shambles, but there are ways to make it work again. For one answer, look to your leafy greens.
28 - CAN WE SOLVE HUNGER IN OUR LIFETIME? BY Dashka Slater. Here are six ideas that, practiced together, will make a difference.
34 - ALTERNATIVE REALITY: "WORLD WITHOUT OIL" By Paul Totah '79. Alternate reality games can help solve future global crises. Ken Eklund '79 has already shown it can be done.
36 - SUPERMAN RETURNS / STILL NO. 1 By Sam Scott. It's jerseys to the rafters for basketball stars Kurt Rambis '80 and Melissa King '93.
Publication Date
Summer 2009
Publisher
Santa Clara : Santa Clara University, 2009.
Disciplines
Arts and Humanities | Business | Education | Engineering | Law | Life Sciences | Medicine and Health Sciences | Physical Sciences and Mathematics | Social and Behavioral Sciences
Recommended Citation
Santa Clara University, "Santa Clara Magazine, Volume 51 Number 1, Summer 2009" (2009). Santa Clara Magazine. 121.
https://scholarcommons.scu.edu/sc_mag/121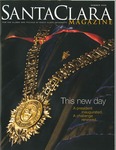 COinS