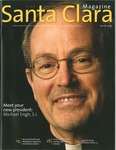 Description
14 - INTELLIGNCE CENTRAL By Scott Brown '93. Leon Panetta '60, J.D. '63 to head the Central Intelligence Agency.
16 - REDEFINING HOMELAND SECURITY By Scott Brown '93. President Obama taps Janet Napolitano '79 for Cabinet post.
18 - HERE TO LISTEN, LEAD, AND HELP WRITE OUR NEXT CHAPTER. MICHAEL ENGH, S.J., PRESIDENT. An interview by Ron Hansen M.A. '95.
24 - FISH GOTTA SWIM, BIRDS GOTTA SING By Alicia K. Gonzales '09. The latest from the California Legacy Series
28 - SILKEN CHOREOGRAPHIES By David Rains Wallace. Biologist Janice Edgerly-Rooks is one of a handful of experts in the world on the webspinning em bi ids-the most amazing insects you've never heard of.
34 - GOD, THE BANJO, AND ME By Mitch Finley '73-A writer teaches his fingers to dance the five-string-and finds sacred time.
36 - PUTTING SOCIAL JUSTICE, SIMPLE LIVING, COMMUNITY, AND SPIRITUALITY ON THE MAP By Alicia K. Gonzales '09. This year, 20 SCU grads began serving in the Jesuit Volunteer Corps. Here's where you'll find them.
Publication Date
Spring 2009
Publisher
Santa Clara : Santa Clara University, 2009.
Recommended Citation
Santa Clara University, "Santa Clara Magazine, Volume 50 Number 4, Spring 2009" (2009). Santa Clara Magazine. 120.
https://scholarcommons.scu.edu/sc_mag/120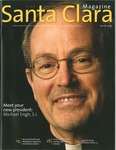 COinS