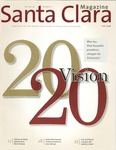 Description
10 - MEET MOUNTAIN By Lisa Taggart. A Q&A with SCU women's basketball coach Jennifer Mountain.
12 - KATRINA AT THREE By Pat Semansky '06. A New Orleans photo essay.
16 - THE MEDDLING PRIEST FROM OZ By Emily Elrod '05. An interview with Australian Jesuit John Brennan, S.J.-lauded as a "national treasure" and an "ethical burr."
18 - 20/20 VISION By Robert M. Senkewicz. How has the presidency of Paul Locatelli, S.J., transformed the University-as a place-and as an idea?
28 - GO WITH YOUR HEART By Francisco Jimenez. An exclusive excerpt from his new memoir, Reaching Out.
32 - SPEAK AND YOU SHALL BE HEARD By Alicia K. Gonzales '09. A look at Ethnic Community Builders, oral histories of Mexican Americans in San Jose.
33 - IF THESE WALLS COULD TALK...By Steven Boyd Saum. More than 30 years later, they do. And Tom Eichenberg '76, M.A. '77 gets back his long-lost wallet.
Publication Date
Fall 2008
Publisher
Santa Clara : Santa Clara University, 2008.
Disciplines
Arts and Humanities | Business | Education | Engineering | Law | Life Sciences | Medicine and Health Sciences | Physical Sciences and Mathematics | Social and Behavioral Sciences
Recommended Citation
Santa Clara University, "Santa Clara Magazine, Volume 50 Number 2, Fall 2008" (2008). Santa Clara Magazine. 118.
https://scholarcommons.scu.edu/sc_mag/118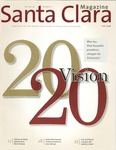 COinS