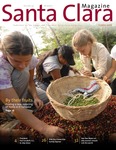 Description
10 - SPEED RACERS An interview by Gwen Knapp. Cycling legend Greg LeMond talks ethics and doping in sports.
14 - MEET THE NEW FATHER GENERAL By Steven Boyd Saum. Introducing Adolfo Nicols, S.J., the new Superior General of the Society of Jesus.
16 - NO SIMPLE HIGHWAY By Juan Velasco. The Casa de la Solidaridad is less a place than a journey—one that offers a new understanding of solidarity. And a new meaning of home.
22 - EXILES By Ron Hansen. A tale of a shipwreck, a priest, and a poet. Hansen tells the story behind his new novel, which weaves together the tragic wreck of the liner Deutschland and the life of Gerard Manley Hopkins, S.J.
26 - FOR I WAS IN PRISON AND YOU VISITED ME By Elizabeth Fernandez '79. More than half the women in California prisons are mothers. Some go months or years without seeing their children. But with the Chowchilla Family Express, Eric DeBode '88 is trying to change that.
32 - STAND UP By Lisa Taggart. Women should rule the world, says Dee Dee Myers '83. And she's not kidding. Really.
35 - SUPERDEMS! By Anne Federwisch. Meet Christopher Stampolis '87, M.A. '98. He's one of the folks who likely holds the key to who'll be the Democrats' presidential nominee.
Publication Date
Summer 2008
Publisher
Santa Clara : Santa Clara University, 2008.
Disciplines
Arts and Humanities | Business | Education | Engineering | Law | Life Sciences | Medicine and Health Sciences | Physical Sciences and Mathematics | Social and Behavioral Sciences
Recommended Citation
Santa Clara University, "Santa Clara Magazine, Volume 50 Number 1, Summer 2008" (2008). Santa Clara Magazine. 117.
https://scholarcommons.scu.edu/sc_mag/117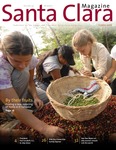 COinS