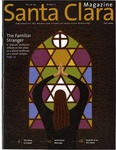 Description
6 - THE DRIVE TO CREATE by Elizabeth Kelley Gillogly '93. Albert Hoagland, an adjunct professor at SCU for more than 20 years, helped to build the first disk drive. Now is he working to preserve the history of magnetic disk storage.
10 - UNFINISHED MESSAGE by Toshio Mori. We share an excerpt from a collection of short stories by Mori, whose work highlights the plight of Japanese immigrants in the U.S. during World War II. The book is a part of the California Legacy Series, a partnership between SCU and Heyday Books.
14 - THE FAMILIAR STRANGER By Cynthia M. Baker. A Jewish assistant professor of religious studies at SCU, Baker has found a fit between Jews and Jesuits. She reflects on her experiences in this personal essay.
18 - PORTRAIT OF AN SCU STUDENT VOTER by Kim Kooyers. As part of her work as a Hackworth Fellow with the Markkula Center for Applied Ethics at SCU, Elizabeth Simas '05 conducted a campus-wide survey of SCU students to explore students' values and voting behavior.
Publication Date
Fall 2005
Publisher
Santa Clara : Santa Clara University, 2005.
Disciplines
Arts and Humanities | Business | Education | Engineering | Law | Life Sciences | Medicine and Health Sciences | Physical Sciences and Mathematics | Social and Behavioral Sciences
Recommended Citation
Santa Clara University, "Santa Clara Magazine, Volume 47 Number 2, Fall 2005" (2005). Santa Clara Magazine. 114.
https://scholarcommons.scu.edu/sc_mag/114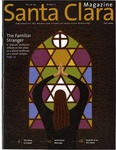 COinS