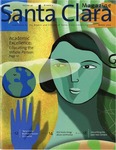 Description
10 - ACADEMIC EXCELLENCE AT SCU By Paul Locatelli, S.J. ln an adaptation of his convocation address, SCU 's president describes the University's goal to educate "the whole person."
12 - 'BECKHAM' BOOSTS SCU SOCCER By Victoria Hendel De La O. References to SCU in the hit movie have brought international attention to the women's soccer program.
14 - SEEKING SOLUTIONS Experts vi sit campus to discuss the issue of clergy abuse and work on a book about the topic.
18 - UNEARTHING THE PAST By Connie Skipitares. SCU archaeologists, anthropologists, and students probe a site near campus to learn about the area's history.
Publication Date
Winter 2003
Publisher
Santa Clara : Santa Clara University, 2003.
Disciplines
Arts and Humanities | Business | Education | Engineering | Law | Life Sciences | Medicine and Health Sciences | Physical Sciences and Mathematics | Social and Behavioral Sciences
Recommended Citation
Santa Clara University, "Santa Clara Magazine, Volume 45 Number 3, Winter 2003" (2003). Santa Clara Magazine. 107.
https://scholarcommons.scu.edu/sc_mag/107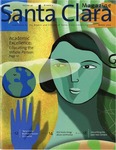 COinS