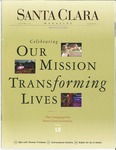 Description
10 - GLOBALIZATION EMPOWERS GOOD AND EVIL By Rob Elder. Thomas Friedman, Pulitzer Prizewinning author and international affairs columnist for The New York Times, discusses this complex issue during a visit to campus.
14 - ON THE COLLISION OF WORLDS By Fred White. Corny science fiction movies inspire an SCU English professor to ponder deeply cosmic questions.
18 - THE CAMPAIGN FOR SANTA CLARA By Elizabeth Kelley Gillogly '93. SCU launches the largest campaign in its history, with plans for endowed scholarships, a new library, a new building for the Leavey School of Business, and much more.
Publication Date
Winter 2002
Publisher
Santa Clara : Santa Clara University, 2002.
Disciplines
Arts and Humanities | Business | Education | Engineering | Law | Life Sciences | Medicine and Health Sciences | Physical Sciences and Mathematics | Social and Behavioral Sciences
Recommended Citation
Santa Clara University, "Santa Clara Magazine, Volume 44 Number 3, Winter 2002" (2002). Santa Clara Magazine. 103.
https://scholarcommons.scu.edu/sc_mag/103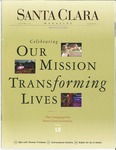 COinS