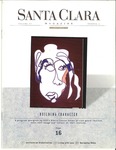 Description
6 - INSTITUTE ON GLOBALIZATION By SCM Staff. For the academic year 2002-03, SCU will focus on globalization and how it is shaping our world.
12 - TOUGH TALK By Dale Larson. End-of-life conversations can help us cope with the loss· of a loved one.
16 - BUILDING CHARACTER By Miriam Schulman . Alumni are helping troubled kids make better choices using a program developed by SCU's Markkula Center for Applied Ethics.
Publication Date
Fall 2002
Publisher
Santa Clara : Santa Clara University, 2002.
Disciplines
Arts and Humanities | Business | Education | Engineering | Law | Life Sciences | Medicine and Health Sciences | Physical Sciences and Mathematics | Social and Behavioral Sciences
Recommended Citation
Santa Clara University, "Santa Clara Magazine, Volume 44 Number 2, Fall 2002" (2002). Santa Clara Magazine. 102.
https://scholarcommons.scu.edu/sc_mag/102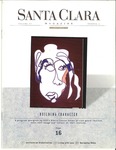 COinS