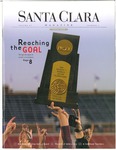 Description
3 - BIG GIFT FOR BUSINESS SCHOOL BUILDING By SCM Staff. Silicon Valley investor Don Lucas donates $15 million to the Leavey School of Business.
8 - REACHING THE GOAL By Barry Holtzclaw. The women's soccer program has steadily become a national power.
16 - THE ART OF ADMISSION By John Kovacevich. The admissions office shapes the classes of the future by seeking a mix of diversity, creativity, and promise .
Publication Date
Spring 2002
Publisher
Santa Clara : Santa Clara University, 2002.
Disciplines
Arts and Humanities | Business | Education | Engineering | Law | Life Sciences | Medicine and Health Sciences | Physical Sciences and Mathematics | Social and Behavioral Sciences
Recommended Citation
Santa Clara University, "Santa Clara Magazine, Volume 43 Number 4, Spring 2002" (2002). Santa Clara Magazine. 100.
https://scholarcommons.scu.edu/sc_mag/100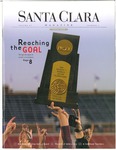 COinS