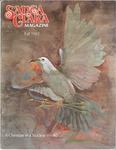 Description
8 - A CHRISTIAN IN A NUCLEAR WORLD by William C. Spohn, S.J. Exploring an issue crucial to our time from a Christian perspective.
13 - A TEACHER FOR ALL SEASONS by Paul L. Locatelli, S.J. Discussing the challenges and the relationship between teaching and scholarship that beset today's teachers.
16 - NO MORE PUNCH AND COOKIES 20 successful years at Santa Clara mean women's sports are here to stay.
18 - KRASSOWSKI ON COMMUNICATION by Jeanne Huber '72. Some suggestions on the art from one of the university's most skilled communicators.
21 - ON CONSERVATORSHIP by George J. Alexander. Tracing the roots of conservatorship which, like the insanity defense, makes people legally irresponsible.
23 - BUSINESS ETHICS: PART OF THE CORPORATE PLAN? by Theodore V. Purcell, S.J. Grafting a new branch on the corporate decision tree, a branch that reads "right or wrong."
Publisher
Santa Clara : Santa Clara University, 1982.
Disciplines
Arts and Humanities | Business | Education | Engineering | Law | Life Sciences | Medicine and Health Sciences | Physical Sciences and Mathematics | Social and Behavioral Sciences
Recommended Citation
Santa Clara University, "Santa Clara Magazine, Volume 25 Number 3, Fall 1982" (1982). Santa Clara Magazine. 65.
https://scholarcommons.scu.edu/sc_mag/65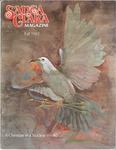 COinS