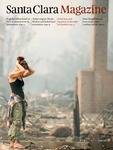 Description
22 - TRUST ME After decades of declining trust in journalism, here's some good news. Introducing the Trust Project. By Steven Boyd Saum and Deborah Lohse. Illustrations by Franziska Barczyk.
28 - NOBEL BEGINNINGS Santa Clara Professor Hersh Shefrin, fellow economist Richard Thaler, and the beginning of the fight to have behavioral economics taken seriously. There was yelling involved. By Deborah Lohse. Illustrations by Paul Blow.
32 - AFTERMATH OF DISASTER When fire or flood, wind or tremor strikes, what do you make of what's been lost? How do you help others put their lives back together? Stories from the Wine Country Fires, Hurricanes Harvey and Irma, and earthquakes in Mexico. By Kerry Benefield, John Nova Lomax, and Matt Morgan.
42 - GROUNDS FOR DETENTION Asylum seekers, victims of human trafficking, and veterans are among those Christina Fialho '06, J.D. '12 tries to help in her day-to-day work. All are detained immigrants. By Katia Savchuk. Illustrations by Edel Rodriguez.
50 - THE BALLAD OF JESUS ORTIZ A new poem from a very old story that seemed too strange to be true. A cowboy ballad, courtesy of the California Poet Laureate. By Dana Gioia.
Publication Date
Spring 2018
Publisher
Santa Clara : Santa Clara University, 2018.
Keywords
Santa Clara University, Periodicals. Universities and colleges, California, Santa Clara, Periodicals
Disciplines
Arts and Humanities | Business | Education | Engineering | Law | Life Sciences | Medicine and Health Sciences | Physical Sciences and Mathematics | Social and Behavioral Sciences
Recommended Citation
Santa Clara University, "Santa Clara Magazine, Volume 59 Number 1, Spring 2018" (2018). Santa Clara Magazine. 33.
https://scholarcommons.scu.edu/sc_mag/33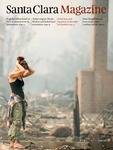 COinS