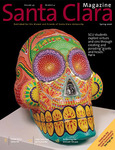 Description
8 - A DREAM OPPORTUNITY by Monte Lorenzet. Santa Clara University's sleep lab is one of just a handful of similar research facilities at undergraduate institutions. Students, alumni, faculty, and the research community are all benefiting from the fledgling lab.
10 - SCIENCE AND SOCIAL JUSTICE by Kim Kooyers. Social entrepreneurs use technology to address some of the world's urgent needs. Last November, some of these innovators were honored at the Tech Museum Awards, an international awards program.
14 - GIGANTES Y CABEZUDOS by Elizabeth Kelley Gillogly '93. In an intensive workshop featuring seasoned artists from Spain, SCU students explored virtues and sins through the art of cartoneria, a Spanish and Mexican folk art tradition.
18 - JUSTICE DELAYED: REOPENING THE EMMETT TILL CASE by Margaret M. Russell, associate professor, SCU School of Law. Late last fall, the FBI concluded an 18-month investigation into the case of the 1955 murder of Emmett Till, a 14-year-old African- American boy. What have we learned (and not learned) about civil rights in the 50 years since?
Publication Date
Spring 2006
Publisher
Santa Clara : Santa Clara University, 2006.
Keywords
Santa Clara University, Periodicals. Universities and colleges, California, Santa Clara, Periodicals.
Disciplines
Arts and Humanities | Business | Education | Engineering | Law | Life Sciences | Medicine and Health Sciences | Physical Sciences and Mathematics | Social and Behavioral Sciences
Recommended Citation
Santa Clara University, "Santa Clara Magazine, Volume 47 Number 4, Spring 2006" (2006). Santa Clara Magazine. 19.
https://scholarcommons.scu.edu/sc_mag/19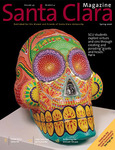 COinS