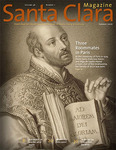 Description
8 - THE MAN BEHIND THE SOUND by Karen Crocker Snell. As a young music-loving soldier in the final days of World War II, John T. "Jack" Mullin '36 went to investigate a German recording device called a magnetophon. His resulting work in sound profoundly affected the field of recorded audio.
14 - THREE ROOMMATES IN PARIS By John Patrick Donnelly, S.J. It has been 500 years since Francisco Xavier and Pierre Favre were born, and 450 years since the death of Ignatius of Loyola. Quite a lot has happened since 1529 at the University of Paris, when the three men shared a room and went on to form the Society of Jesus.
18 - SPIRITUAL EXERCISES By Ron Hansen. In his mid-20s, Iñigo de Loyola kept an informal notebook of the consolations, graces, and inner wrenchings he experienced while meditating on scripture. This Manresa notebook went on to become a practical manual that has helped escort countless others through mystical contact with their soul's deepest yearnings and thus with God.
20 - WHO CARES ABOUT BIODIVERSITY? By Miriam Schulman. Geoffrey Bowker, executive director of SCU's Center for Science, Technology, and Society, says preserving biodiversity is one of the central problems that confronts us-and not necessarily for the reasons you'd think.
Publication Date
Summer 2006
Publisher
Santa Clara University,
Keywords
Santa Clara University, Periodicals. Universities and colleges, California, Santa Clara, Periodicals.
Disciplines
Arts and Humanities | Business | Education | Engineering | Law | Life Sciences | Medicine and Health Sciences | Physical Sciences and Mathematics | Social and Behavioral Sciences
Recommended Citation
Santa Clara University, "Santa Clara Magazine Volume 48 Number 1, Summer 2006" (2006). Santa Clara Magazine. 18.
https://scholarcommons.scu.edu/sc_mag/18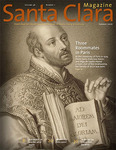 COinS