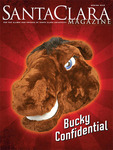 Description
20 - WHAT WILL YOU BE? By David Mckay Wilson. San Francisco's Immaculate Conception Academy has found a work-study program that gives low-income students what they need. Starting with a bigger view of the world.
22 - BUCKY BRONCO CONFIDENTIAL By Jeff Gire And Sam Scott '96. Who wears the costume today may be classified information. But here are a few secrets revealed-including how Bucky came to be.
26 - TALKIN' DUST BOWL BLUES By David Mckay Wilson. The ghost of Woody Guthrie stalks the stage-with Rob Tepper '00 playing the role. This year marks the centennial of the iconic American folk singer's birth.
28 - WHY WOMEN PROFESSORS? By Nancy C. Unger. Marking 50 years of coeducation at Santa Clara-and recognizing that it's not just the composition of students that has changed profoundly. Women as teaching scholars are a big part of the equation.
30 - EVIDENCE OF THINGS UNSEEN By Roberta Kwok. Dark matter makes up 85 percent of the material in our universe. It envelops our galaxy-yet scientists have never seen it. That's why physicist Betty Young is looking-right here on Earth.
Publisher
Santa Clara University,
Keywords
Santa Clara University, Periodicals. Universities and colleges, California, Santa Clara, Periodicals.
Disciplines
Arts and Humanities | Business | Education | Engineering | Law | Life Sciences | Medicine and Health Sciences | Physical Sciences and Mathematics | Social and Behavioral Sciences
Recommended Citation
Santa Clara University, "Santa Clara Magazine, Volume 53 Number 4, Spring 2012" (2012). Santa Clara Magazine. 17.
https://scholarcommons.scu.edu/sc_mag/17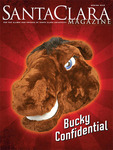 COinS