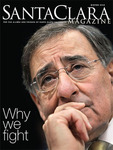 Description
18 - MY FIGHT, MY FAITH By Steven Boyd Saum. As head of the CIA, Leon Panetta '60, J.D. '63 restored confidence in the agency and oversaw the mission to find Osama bin Laden. Now, as secretary of defense in an age of budget austerity, he has to make sure the Pentagon doesn't break the bank-and that the nation doesn't break faith with the men and women who serve.
24 - GENERAL JOE By Sam Scott '96. When Joseph Peterson '72 signed up for ROTC as an undergrad, he planned to complete his military service and then move on. Nearly four decades later, he finally has: with three stars on his shoulder, after overseeing training of more than 100,000 Iraqi police, and having served as deputy commander of U.S. Forces Command, responsible for some 900,000 soldiers.
28 - FROM ENEMY TO EMPATHY By Kevin Tripp. Political scientist William Stover teaches students to understand volatile conflicts through first-hand experience. Thanks to virtual simulations, there aren't casualties. But there is a new way of seeing.
30 - BRONCO BATTALION By Sam Scott '96. What does it mean for a Jesuit university to be home to the Reserve Officers' Training Corps? Seventy-five years after ROTC came to Santa Clara-and 150 years after officers were first trained on campus-a few answers are clear.
Publisher
Santa Clara University,
Keywords
Santa Clara University, Periodicals. Universities and colleges, California, Santa Clara, Periodicals.
Disciplines
Arts and Humanities | Business | Education | Engineering | Law | Life Sciences | Medicine and Health Sciences | Physical Sciences and Mathematics | Social and Behavioral Sciences
Recommended Citation
Santa Clara University, "Santa Clara Magazine, Volume 53 Number 3, Winter 2012" (2012). Santa Clara Magazine. 16.
https://scholarcommons.scu.edu/sc_mag/16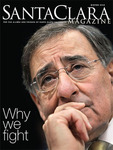 COinS