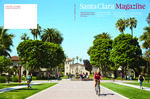 Description
16 - SHARED DREAMS Meet incoming University President Julie Sullivan, the first layperson and woman selected to lead SCU. Leslie Griffy
20 - BD KNOWS BEST Discovering who you really are, being grateful, and dinosaurs with BD Wong. Lauren Loftus.
22 - SWEPT AWAY Being homeless in Silicon Valley is particularly deadly. One professor explores why so many die in a land of such excess. Leslie Griffy .
28 - ON THE OUTSIDE A first-person account of being wrongly convicted, as told by Arturo Jimenez.
30 - BOOKED AND BUSY The secret behind the Hollywood success of so many Bronco women. Lucy Nino '22.
34 - TRACING THE WOLF A tattoo as an act of reclamation reminds not only of one's ability to survive but also of vulnerability. Maggie Levantovskaya.
40 - HOW DOES THAT MAKE YOU FEEL BETTER? A lack of diversity among therapists creates an unhealthy cycle where people can't find the help they need. Lauren Loftus and Tatiana Sanchez '10 .
Publication Date
Summer 2022
Publisher
Santa Clara : Santa Clara University, 2022.
Disciplines
Arts and Humanities | Business | Education | Engineering | Law | Life Sciences | Medicine and Health Sciences | Physical Sciences and Mathematics | Social and Behavioral Sciences
Recommended Citation
Santa Clara University, "Santa Clara Magazine, Volume 63 Number 1, Summer 2022" (2022). Santa Clara Magazine. 138.
https://scholarcommons.scu.edu/sc_mag/138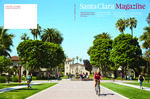 COinS