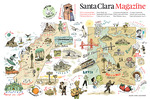 Description
24 - FOUND IN TRANSLATION The Pulitzer for editorial cartooning recognizes the tale of two Syrian refugee families. Here's who translated their story. By Tracy Seipel and Tina Vossugh.
26 - LEGENDS OF THE COURT A pair of Bronco hoops legends: Steve Nash '96, welcome to the Basketball Hall of Fame! Kurt Rambis '80, on big-time break-ins—and a fan club like no other. Words by Mark Purdy and Sam Farmer. Illustrations by Victor Juhasz.
34 - A JOURNEY THROUGH THE HOLY LAND Israel, from a hazy gray sea to the House of Bread to the Hill of the Skull. Learning how experience can illuminate the Gospels. By Ron Hansen M.A. '95.
38 - MAPS AND LEGENDS Five missions, a would-be Eagle Scout, a maverick priest, and reconciling past and present. Here's how the maps of the future were changed—and how a cocky young writer got some stern advice. By Michael S. Malone '75, MBA '77.
44 - UNDAUNTED Lizbeth Mateo J.D. '16 crosses boundaries—both geopolitical lines and barriers society erects. A rare undocumented person holding statewide office, she helps underserved students enter college. By Katia Savchuk.
Publication Date
Fall 2018
Publisher
Santa Clara : Santa Clara University, 2018.
Disciplines
Arts and Humanities | Business | Education | Engineering | Law | Life Sciences | Medicine and Health Sciences | Physical Sciences and Mathematics | Social and Behavioral Sciences
Recommended Citation
Santa Clara University, "Santa Clara Magazine, Volume 60 Number 1, Fall 2018" (2018). Santa Clara Magazine. 129.
https://scholarcommons.scu.edu/sc_mag/129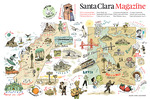 COinS