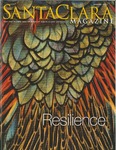 Description
16 - LIFE CYCLE A Photo Essay By Susan Middleton '70. Luminous beauty drawn from two remarkable projects-Evidence of Evolution and Spineless. And a sneak peek at a show by this Guggenheim fellow opening in April at SCU's de Saisset Museum.
20 - CAN NEWSPAPERS & JOURNALISM SURVIVE THE DIGITAL AGE? DOES IT MATTER? By Jeff Brazil '85. A Pulitzer Prize-winning journalist goes looking for answers, talking to industry veterans, and taking stock of the new forms of journalism arising.
30 - REVEALED! THE TRUTH BEHIND NO NAME! By Sam Scott '96. On today's Rock Report: the story (and real identity) of a legendary bad boy disc jockey. It's none other than Mike Nelson '96, whose freshman thrash band was once booed off the stage at the Leavey Center.
32 - SATELLITE HEART By Sam Scott '96. For the first part of her life, Anya Marina '96 found her voice a source of embarrassment and ridicule. Now, with her third album on the way, it's her bread and butter.
46 - THE PAUSE FOR COZ By Adam Breen. A much-beloved Jesuit, Fr. Richard Coz touched the lives of generations of Broncos-including Steve Erbst '88, who established the Pause for Coz scholarship program in his honor. Sadly, Fr. Coz died on New Year's Eve.
Publication Date
Spring 2011
Publisher
Santa Clara : Santa Clara University, 2011.
Disciplines
Arts and Humanities | Business | Education | Engineering | Law | Life Sciences | Medicine and Health Sciences | Physical Sciences and Mathematics | Social and Behavioral Sciences
Recommended Citation
Santa Clara University, "Santa Clara Magazine, Volume 52 Number 4, Winter 2011" (2011). Santa Clara Magazine. 125.
https://scholarcommons.scu.edu/sc_mag/125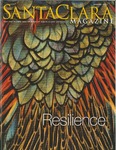 COinS