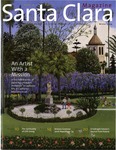 Description
8 - AN ARTIST WITH A MISSION By Elizabeth Kelley Gillogly '93. In his latest series, Howard Anderson '71 created paintings of the 21 California missions.
10 - THE SPIRITUALITY OF GIFT GIVING By Tom Beaudoin. Is it possible to turn our gift giving into a spiritual exercise?
14 - RAISING ARIZONA By Susan Shea. Arizona Governor Janet Napolitano '79, a rising political star, uses the lessons learned at SCU to serve her state.
20 - LEAVING COMMUNISM BEHIND By Jane Curry. An SCU professor and Fulbright Scholar researches forgiveness and justice in post-communist Poland.
Publication Date
Winter 2004
Publisher
Santa Clara : Santa Clara University, 2004.
Disciplines
Arts and Humanities | Business | Education | Engineering | Law | Life Sciences | Medicine and Health Sciences | Physical Sciences and Mathematics | Social and Behavioral Sciences
Recommended Citation
Santa Clara University, "Santa Clara Magazine, Volume 46 Number 3, Winter 2004" (2004). Santa Clara Magazine. 111.
https://scholarcommons.scu.edu/sc_mag/111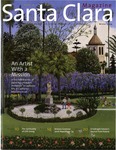 COinS