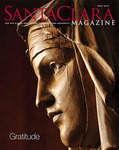 Description
6 - One in a million - By Michael E. Engh, S.J. A note of thanks from the president to SCU alumni. For the Leavey Challenge, you came through in record numbers to secure a $1 million challenge grant for the University. 20 - Good light: A photo retrospective with Charles Barry. For a quarter century he has told Santa Clara's stories in photographs. Here are a few. 26 - Yes, but is it the right thing to do? By Sam Scott '96. From business to government to college campuses, it's not always a question that gets asked. But here's how the Markkula Center for Applied Ethics set out to change that. 32 - Potions and poisons By Elizabeth Fernandez '79. Medical sleuth B. Joseph Guglielmo '73, dean of the nation's top school of pharmacy, on the challenges of treating patients. And a health care system.
Publication Date
Fall 2013
Publisher
Santa Clara University,
Keywords
Santa Clara University, Periodicals. Universities and colleges, California, Santa Clara, Periodicals.
Disciplines
Arts and Humanities | Business | Education | Engineering | Law | Life Sciences | Medicine and Health Sciences | Physical Sciences and Mathematics | Social and Behavioral Sciences
Recommended Citation
Santa Clara University, "Santa Clara Magazine, Volume 55, Number 1, Fall 2013" (2013). Santa Clara Magazine. 11.
https://scholarcommons.scu.edu/sc_mag/11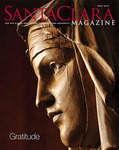 COinS