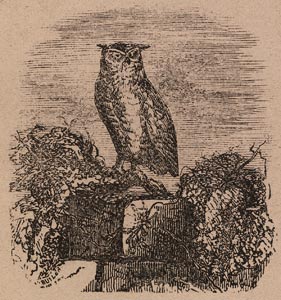 The Owl was a student run publication that printed its first issue in 1869. It was a monthly literary magazine devoted to "mental improvement". The title was conceived after a scheduling change forced the students to have their study time moved from the afternoon to the evening. The students proclaimed, "We're owls, conning our books in the night. Each one of us shall be a brother owl, and our paper shall be called The Owl."
Topics covered included a short summary of the affairs of the nation, miscellaneous notes and book notices, scientific and historical essays, tales, dramas, poetry, humor, and class standing. Due to the retirements of the campus printer and the magazines faculty moderator as well as student apathy, the decision was made to end publication in 1875.
In 1903, The Redwood began publication and was considered to be a continuation of the literary ideals of The Owl. This continued until the early 1930's when The Redwood began to focus more on university life.
In 1931, The Owl was released once a month as a literary supplement in the weekly university newspaper, the Santa Clara. It remained a supplement until 1938, where it once again became an independent publication.
In 1939, the editors, after having determined there had been 29 years of printing of The Owl in one form or another, released that year's publication as volume 30, with this numbering continuing to the present time. Due to WWII, there were no issues published from 1943-1946.
Wanting to sound more professional and to be comparable to other schools' literary magazines, the editors of the The Owl officially changed the name to the Santa Clara Review in 1988.
Printing is not supported at the primary Gallery Thumbnail page. Please first navigate to a specific Image before printing.