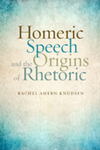 Title
Homeric Speech and the Origins of Rhetoric
Description
Traditionally, Homer's epics have been the domain of scholars and students interested in ancient Greek poetry, and Aristotle's rhetorical theory has been the domain of those interested in ancient rhetoric. Rachel Ahern Knudsen believes that this academic distinction between poetry and rhetoric should be challenged. Based on a close analysis of persuasive speeches in the Iliad, Knudsen argues that Homeric poetry displays a systematic and technical concept of rhetoric and that many Iliadic speakers in fact employ the rhetorical techniques put forward by Aristotle.
Rhetoric, in its earliest formulation in ancient Greece, was conceived as the power to change a listener's actions or attitudes through words—particularly through persuasive techniques and argumentation. Rhetoric was thus a "technical" discipline in the ancient Greek world, a craft ( technê) that was rule-governed, learned, and taught. This technical understanding of rhetoric can be traced back to the works of Plato and Aristotle, which provide the earliest formal explanations of rhetoric. But do such explanations constitute the true origins of rhetoric as an identifiable, systematic practice? If not, where does a technique-driven rhetoric first appear in literary and social history?
Perhaps the answer is in Homeric epics. Homeric Speech and the Origins of Rhetoric demonstrates a remarkable congruence between the rhetorical techniques used by Iliadic speakers and those collected in Aristotle's seminal treatise on rhetoric. Knudsen's claim has implications for the fields of both Homeric poetry and the history of rhetoric. In the former field, it refines and extends previous scholarship on direct speech in Homer by identifying a new dimension within Homeric speech—namely, the consistent deployment of well-defined rhetorical arguments and techniques. In the latter field, it challenges the traditional account of the development of rhetoric, probing the boundaries that currently demarcate its origins, history, and relationship to poetry.
Buy Link
https://jhupbooks.press.jhu.edu/content/homeric-speech-and-origins-rhetoric
Publisher
Johns Hopkins University Press
Disciplines
Ancient History, Greek and Roman through Late Antiquity | Classics | Rhetoric
Recommended Citation
Knudsen, Rachel Ahern, "Homeric Speech and the Origins of Rhetoric" (2014). Faculty Book Gallery. 72.
https://scholarcommons.scu.edu/faculty_books/72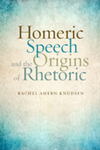 COinS