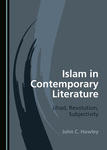 Islam in Contemporary Literature: Jihad, Revolution, Subjectivity.
Description
Suitable for the classroom but completely accessible to the general reader, this volume presents many of the most interesting authors writing today from an Islamic background—Kamel Daoud, Yasmine el Rashidi, Hisham Matar, Tahar Djaout, Mohsin Hamid, Hanif Kureishi, Edward Said, Driss Chaibi, Kamila Shamsie, Tahar ben Jelloun, Leila Aboulela, Abdellah Taïa, Ayaan Hirsi Ali, Hisham Matar, Eboo Patel, Reza Aslan, and Tamim Ansary, among others—who embody the various strains of Islamic interpretation and conflict. This study discusses an ongoing Reformation in Islam, focusing on the Arab Spring, the role of women and sexuality, the "clash of civilizations," assimilation and cosmopolitanism, jihad, pluralism across cultures, free speech and apostasy. In an atmosphere of political and religious awakening, these authors search for a voice for individual rights while nations seek to restore a "disrupted destiny." Questions of "de-Arabization" of the religion, ecumenicism, comparative modernities, and the role of literature thread themselves throughout the chapters of the book.
This paper has been withdrawn.