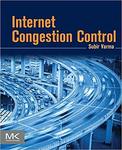 Title
Internet Congestion Control
Description
Internet Congestion Control provides a description of some of the most important topics in the area of congestion control in computer networks, with special emphasis on the analytical modeling of congestion control algorithms.
The field of congestion control has seen many notable advances in recent years and the purpose of this book, which is targeted towards the advanced and intermediate reader, is to inform about the most important developments in this area. The book should enable the reader to gain a good understanding of the application of congestion control theory to a number of application domains such as Data Center Networks, Video Streaming, High Speed Links and Broadband Wireless Networks. When seen through the lens of analytical modeling, there are a number of common threads that run through the design and analysis of congestion control protocols in all these different areas, which are emphasized in this book. The book also cuts a path through the profusion of algorithms in the literature, and puts the topic on a systematic and logical footing.
Internet Congestion Control provides practicing network engineers and researchers with a comprehensive and accessible coverage of analytical models of congestion control algorithms, and gives readers everything needed to understand the latest developments and research in this area.
Buy Link
https://www.amazon.com/Internet-Congestion-Control-Subir-Varma/dp/0128035838
Publication Date
8-18-2015
Publisher
Morgan Kaufmann
Disciplines
Digital Communications and Networking
Recommended Citation
Varma, Subir, "Internet Congestion Control" (2015). Faculty Book Gallery. 470.
https://scholarcommons.scu.edu/faculty_books/470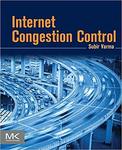 COinS