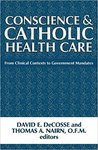 Title
Conscience and Catholic Health Care: From Clinical Contexts to Government Mandates
Description
Drawn from a two-day symposium at Santa Clara University, Conscience and Catholic Health Care provides a timely and up-to-date assessment of the Catholic understanding of conscience and how it relates to day-to-day issues in Catholic health care. The contributors explore a wide range of topics, including end-of-life care, abortion and sterilization, and the role of Catholic ethics particularly in hospital settings.

With insights from key figures this book will serve as a useful text and reference for medical students and practitioners as well as a resource for ethics boards and chaplains in Catholic hospitals, most especially those merging with secular health institutions.

In addition to the editors, contributors include Ron Hamel, Anne E. Patrick, Roberto Dell Oro, Lisa Fullam, Kristin E. Heyer, John J. Paris, M. Patrick Moore, Jr., Cathleen Kaveny, Lawrence J. Nelson, Kevin T. FitzGerald, SJ, Gerald Coleman, Margaret R. McLean, Shawnee M. Daniels-Sykes, and Carol Taylor.
Buy Link
https://www.amazon.com/Conscience-Catholic-Health-Care-Government/dp/1626982120/ref=sr_1_1?ie=UTF8&qid=1516235275&sr=8-1&keywords=conscience+and+catholic+health+care
Publication Date
3-16-2017
Disciplines
Bioethics and Medical Ethics | Christianity | Ethics and Political Philosophy
Recommended Citation
DeCosse, David E., "Conscience and Catholic Health Care: From Clinical Contexts to Government Mandates" (2017). Faculty Book Gallery. 341.
https://scholarcommons.scu.edu/faculty_books/341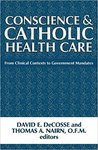 COinS