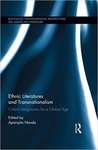 Ethnic Literatures and Transnationalism: Critical Imaginaries for a Global Age
Description
As new comparative perspectives on race and ethnicity open up, scholars are identifying and exploring fresh topics and questions in an effort to reconceptualize ethnic studies and draw attention to nation–based approaches that may have previously been ignored. This volume, by recognizing the complexity of cultural production in both its diasporic and national contexts, seeks a nuanced critical approach in order to look ahead to the future of transnational literary studies.
The majority of the chapters, written by literary and ethnic studies scholars, analyze ethnic literatures of the United States which, given the nation's history of slavery and immigration, form an integral part of mainstream American literature today. While the primary focus is literary, the chapters analyze their specific topics from perspectives drawn from several disciplines, including cultural studies and history. This book is an exciting and insightful resource for scholars with interests in transnationalism, American literature and ethnic studies.
This paper has been withdrawn.