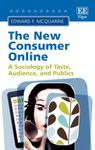 Title
The New Consumer Online: A Sociology of Taste, Audience and Publics
Description
It's a new world online, where consumers can publish their writing and gain a public presence, even a mass audience. This book links together blogging, writing reviews for Yelp, and creating pinboards for Pinterest, all of which provide ordinary people the opportunity to display their tastes to strangers. Edward McQuarrie shows how the operation of taste in consumption has been changed by the Internet and offers a fresh perspective on why websites like Yelp and Pinterest have become so successful.

Drawing on Bourdieu and Campbell to support his thesis, Edward McQuarrie uncovers what is new online by:

• presenting a sociological perspective on what consumers do online and contrasting it to more familiar economic, psychological and ethnographic views
• reinterpreting Bourdieu's idea of cultural capital to understand the success of fashion bloggers
• showing how the meaning of taste and what it means to dress fashionably have changed with the Web
• explaining why online reviews cannot be considered word-of-mouth and therefore cannot be understood using that idea
• examining why Pinterest is so attractive to female consumers while relating Pinterest to Walter Benjamin's ideas about how mechanical reproduction changes the meaning of art.

This book will be valuable to students and scholars interested in consumer research, marketing, and sociology, specifically those who seek an alternative to purely psychological and economic explanations for what consumers do online.
Buy Link
http://www.e-elgar.com/shop/the-new-consumer-online
Disciplines
Marketing | Other Social and Behavioral Sciences
Recommended Citation
McQuarrie, Edward F., "The New Consumer Online: A Sociology of Taste, Audience and Publics" (2015). Faculty Book Gallery. 28.
https://scholarcommons.scu.edu/faculty_books/28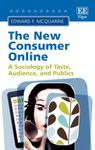 COinS