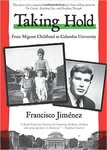 Title
Taking Hold: From Migrant Childhood to Columbia University.
Description
In this fourth book in his award-winning memoir series, Francisco Jimenez leaves everything behind in California—a loving family, a devoted girlfriend, and the culture that shaped him—to attend Columbia University in New York City.
With few true accounts of the Latino experience in America, Francisco Jimenez's work comes alive with telling details about the warmth and resiliency of family and the quest for identity against seemingly impossible odds.
Buy Link
http://www.amazon.com/Taking-Hold-Childhood-Columbia-University/dp/0547632304
Publisher
Houghton Mifflin Harcourt
Disciplines
Latin American History | Latin American Languages and Societies | Other Arts and Humanities
Recommended Citation
Jimenez, Francisco, "Taking Hold: From Migrant Childhood to Columbia University." (2015). Faculty Book Gallery. 22.
https://scholarcommons.scu.edu/faculty_books/22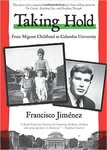 COinS