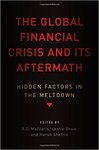 Title
The Global Financial Crisis and Its Aftermath: Hidden Factors in the Meltdown
Description
In The Global Financial Crisis, contributors argue that the complexity of the Global Financial Crisis challenges researchers to offer more comprehensive explanations by extending the scope and range of their traditional investigations. To achieve this, the volume views the financial crisis simultaneously through three different lenses---economic, psychological, and social values.

Contributors offer a constructive methodology suitable for exploring financial crises. They recognize how current economic analysis did not prepare academic economists, business economists, traders, and regulators to anticipate economic and financial crises. So, they search more extensively within the broader discipline of economics for ideas related to crises but neglected perhaps because they were not mathematically rigorous.

They affirm that the complexity of financial crises necessitates complementary research. Thus, to put the focal purpose of this book differently, they explore the Global Financial Crisis from three interconnected frameworks: the standards of orthodox economic analysis, Minskyan economics, and the role of ideas and values in economics.

Values are the subject of both philosophy and psychology and can contribute to a better understanding of the Global Financial Crisis. Values, in general, have been relatively neglected by economists. This is not because there is doubt about their significance, but rather because welfare economics and collective choice still operate within the neoclassical paradigm. This volume argues that analyzing the value implications requires moving from the neoclassical framework to something that is broader and multidisciplinary.
Buy Link
https://www.amazon.com/Global-Financial-Crisis-Its-Aftermath/dp/0199386226/ref=sr_1_1?ie=UTF8&qid=1484694727&sr=8-1&keywords=The+Global+Financial+Crisis+and+Its+Aftermath
Publication Date
10-14-2016
Publisher
Oxford University Press
Disciplines
Business | Economic Policy | Economics
Recommended Citation
Malliaris, A. G.; Shaw, Leslie; and Shefrin, Hersh M., "The Global Financial Crisis and Its Aftermath: Hidden Factors in the Meltdown" (2016). Faculty Book Gallery. 217.
https://scholarcommons.scu.edu/faculty_books/217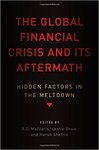 COinS